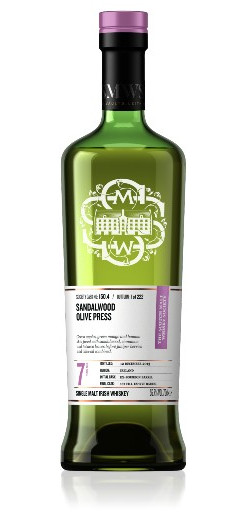 Cask No. 150.4
Sweet, fruity & mellow
SANDALWOOD OLIVE PRESS
$154.69
SOLD OUT EVERYWHERE EXCEPT KENSINGTON WINE MARKET IN CALGARY; AND ON SALE!
Fresh aromas of green apples, green mango and banana skin fused with allspice and hot cross buns before sandalwood joined toasted oak against a backdrop of biscuits and beer. The palate landed on the tongue with olive oil, syrup and chocolate digestive biscuits. Complex spices emerged with star anise, cinnamon and cloves while green notes combined gooseberries and quince jelly with perfumed tobacco leaves.
With water came butter on a charred oak stave topped with honey, peanuts and orange skin. Floral and oily notes of Gewürztraminer wine merged with juniper berries, cereals and marmalade before finishing with menthol and dry vermouth. After spending three years in a 1st fill ex-bourbon barrel this was transferred to a 1st fill ex-rye barrel.
| | |
| --- | --- |
| Age | 7 years |
| Date Distilled | 12 December 2013 |
| Initial Cask Type | 1st fill ex-bourbon barrel |
| Final Cask Type | 1st fill ex-rye barrel |
| Region | Ireland |
| Outturn | 222 bottles |
| ABV | 56.7 % |