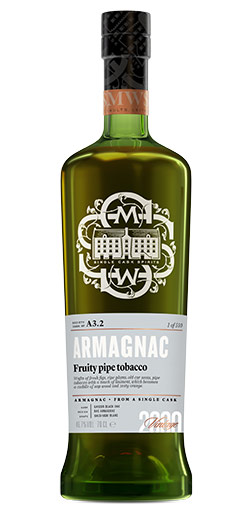 Cask No. A3.2
Armagnac
FRUITY PIPE TOBACCO
$217.99
FIRST BOTTLING FROM ARMAGNAC DISTILLERY A3 FOR SMWS CANADA!
Tate & Lyle's finest Golden Syrup hues hide aromas of labyrinthine complexity. There is an initial waft of fresh figs, overripe plums, the seats of a Rover 90, Balkan Sobranie pipe tobacco and a touch of Deep Heat, just for good measure. 
A little surprising then, when the avalanche you expect becomes a gentle cuddle of flavour. Initial sweetness gives way to an unctuous embrace of fruity sap wood, and zesty orange flesh, which clings to the palate with a lip-smacking fervour. At the end you're left in a warm and satisfying, gently tannic, afterglow.
Age
18 years
Date Distilled
2000
Cask Type
Armagnac barrel
Region
France
Outturn
510 bottles
ABV
46.7 %