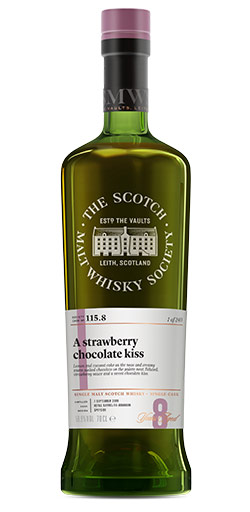 Cask No. 115.8
Sweet, fruity & mellow
A STRAWBERRY CHOCOLATE KISS
FIRST BOTTLING FROM DISTILLERY 115 FOR SMWS CANADA!
A sweet, malty cereal note, tinned peaches in fruit juice and a moist lemon and coconut cake drizzled with warm lemon syrup made this a very delicious experience on the nose neat. On the palate, creamy warm melted white chocolate mixed with dark chocolate sauce over sweet raspberries - an absolute delight.
When adding some water we got aromas of citrus five-fruit blended juice and strawberry sauce with caramelized sugar and pink peppercorns. We finished by receiving a strawberry chocolate kiss (a light fluffy mallow covered in chocolate on a waffle base) – one more please!
Age
8 years
Date Distilled
2 September 2009
Cask Type
Refill barrel
Region
Speyside
Outturn
240 bottles
ABV
59.9 %