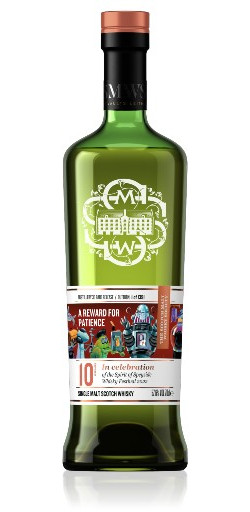 Cask No. Distillery 36 small batch
Deep, rich & dried fruits
A REWARD FOR PATIENCE
British Columbia: $186.69
LAST BOTTLE IN CANADA AVAILABLE AT ARC LIQUOR IN KELOWNA (HARVEY AVE. LOCATION)
From Euan Campbell, SMWS spirits manager: There's a beautiful balance to this, which was first matured in bourbon hogsheads before we transferred it to 125-litre Oloroso quarter casks that were supplied to us by our partners in Jerez, José y Miguel Martin. After that, we put it back into 2nd fill bourbon barrels that we'd recently emptied, giving it time to relax and marry before bottling. The result is a superb dram with the big, dark and intense flavours you would associate with Oloroso sherry maturation, but with the lush tropical notes from the bourbon casks as well.
A robust and toasty aroma that incorporated buttery shortbread, caramelized oatmeal, brown toast and thick cut sticky malt loaf. Also hints of treacle, tea biscuits and wintergreen with a touch of burlap. Reduction brought freshly baked brown bread, toasted sunflower seeds, mustard oil and orange vitamin tablets. Autumnal, earthy and with sweeter tones of caramel, tamarind and ginger.
The neat palate opened with plum and nectarines stewing in Armagnac, charred wood embers, brisket ends and pears poached in dessert wines. Some nut infused chocolate, camphor and pineapple cake. Lots going on! Water brought a nice bitter herbal quality, more toasted nuts, dark boozy fruits and things like spiced damsons, fig paste, plum wine and maple syrup. Bottled for the Speyside Whisky Festival 2022.
| | |
| --- | --- |
| Age | 10 years |
| Date Distilled | 4 May 2011 |
| Cask Type | 1st fill Oloroso quarter casks & 2nd fill bourbon barrels |
| Region | Speyside |
| Outturn | 1391 bottles |
| ABV | 57.6 % |