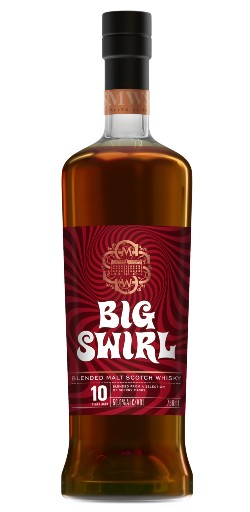 Cask No. N/A
Deep, rich & dried fruits
BIG SWIRL
$127.99
This experimental expression draws from a combination of whiskies matured full term in 1st fill Spanish oak sherry casks, as well as those matured in bourbon wood before over two years of marrying in 1st fill American oak sherry casks.
A classical sherry profile that bursts initially with red berry compote, wine gums, freshly brewed coffee, polished hardwoods, exotic spice mix, toasted nuts, brown toast spread with treacle and walnut wine. A splash of water brings wet leaves, strawberry tobacco, muscovado sugar, rhum agricole, sesame oil, black cumin seeds, lemon peel, toasted wood, rye bread and bitter chocolate.
In the mouth it's a big swirl of dried dark fruits, menthol tobacco, strawberry wine, red liquorice, damp earth, roasted chestnuts, milk chocolate and fig rolls. Some reduction unleashes old herbal liqueurs, mulled plum wine, coffee and walnut cake, cola, cherry syrup and the lingering warmth of fruity red chili.
| | |
| --- | --- |
| Age | 10 years |
| Initial Cask Type | 1st fill Spanish oak sherry and ex-bourbon |
| Final Cask Type | 1st fill American oak sherry |
| Region | Blended Malt |
| Outturn | 1895 bottles |
| ABV | 50 % |
There are no other products with Flavour Profile Deep, rich & dried fruits