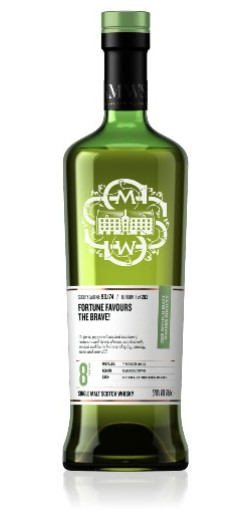 Cask No. 93.174
Peated
FORTUNE FAVOURS THE BRAVE!
$149.99
Imagine standing at the old harbour wall watching a puffer boat arrive and the wind carrying the aromas from the nearby petrol station, cheese and fishmonger. A lot smokier on the palate neat, like a steaming hot smoked haddock and cockle soup, peppered smoked mackerel filets and a traditional Greek cheese smoked for 12 days using grass, leaves and herbs.
After the addition of water, we fed a furnace in a foundry with heather, tarragon, lavender and rosemary before we were back at the fishmonger for smoked eel, smoked cockles in brine and to finish it all how about spicy, smoky, sweet and sour dill pickles.
| | |
| --- | --- |
| Age | 8 years |
| Date Distilled | 7 March 2013 |
| Cask Type | 1st fill ex-bourbon barrel |
| Region | Campbeltown |
| Outturn | 202 bottles |
| ABV | 57.8 % |