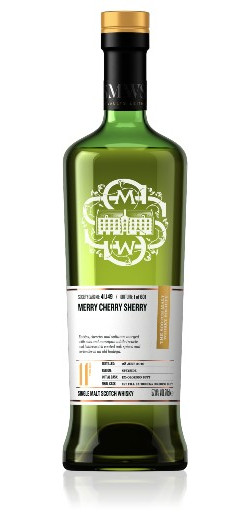 Cask No. 41.149
Spicy & dry
MERRY CHERRY SHERRY
$149.96
SOLD OUT EVERYWHERE EXCEPT KEG N CORK IN EDMONTON
The heady aromas of currants and raisins soaked in sweet sherry joined black cherry clafoutis desserts with butterscotch sweets and ginger. Cherries continued on the palate but now with nuts, charred wood and coriander seeds coated in treacle and citrus zest. Adding water uncovered sultanas, orange segments and baked peaches with fresh almonds, marzipan and crema catalana while salty sea air blew through an open sherry bodega.
Within the bodega, complex oloroso flavours of walnuts and porcini mushrooms blended with heavy and oily malt spirit before a dash of lime juice splashed onto oak spices and dry tannins. After spending 9 years in an ex-oloroso butt this was transferred to an ex-bodega* 1st fill oloroso butt for the remainder of its maturation.
*A cask that was used to mature sherry (for decades possibly) versus a cask that was simply seasoned with sherry for use in the whisky industry.
| | |
| --- | --- |
| Age | 11 years |
| Date Distilled | 29 June 2010 |
| Initial Cask Type | Ex-Oloroso butt |
| Final Cask Type | 1st fill Oloroso ex-bodega butt |
| Region | Speyside |
| Outturn | 601 bottles |
| ABV | 57.8 % |