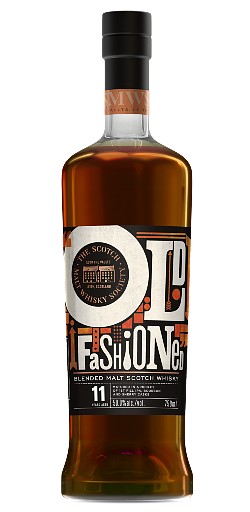 Cask No. N/A
Blended malt
OLD FASHIONED
$127.99
The Society's first beer-matured blended malt came about after we sent Tempest Brewing Co in the Scottish Borders some 1st fill Kentucky bourbon casks, which they used to mature their powerfully hoppy Double IPA – known as Old Fashioned.
They returned the casks for us to mature an 11-year-old Speyside whisky in for another 14 months, before we blended that with selected malts from 1st fill sherry hogsheads. The result is our very own Old Fashioned, named in honour of the Double IPA that preceded it.
The nose possesses a welcoming warmth that combines chocolate, coconut, blood oranges and herbal barley sugar travel sweets. In time, cherry lozenges, candied orange and dusty sweet marshmallows are added to the mix. The palate is outrageously coconutty, with orange Muscat syrup poured on luxurious vanilla ice cream. Beautifully mouth-coating.
A touch of water lightens the experience and accentuates a hoppy grapefruit note, which is complemented by fruit salad with cream and over-ripe peaches. The palate is now fruity, thick and syrupy, with chocolate shavings, almonds, marzipan, stem ginger, buttered pancakes and scones.
Age
11 years
Date Distilled
15 May 2007
Cask Type
1st fill barrels and hogsheads
Outturn
2122 bottles
ABV
50 %
There are no other products with Flavour Profile Blended malt