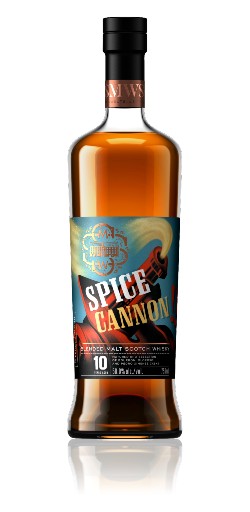 Cask No. N/A
Blended malt
SPICE CANNON
$129.99
Freshly baked apple pie arrived with a heavy dusting of cinnamon and nutmeg, while the dark intentions of demerara-coated walnuts and macadamias bathed in a spicy fruitcake mix. Then a burst of oils from singed orange skin introduced marmalade and black cherries as we ventured into a palate of rich spice. Marzipan and almonds now merged with dark chocolate as raisins and liquorice complemented hazelnut liqueur in hot cocoa.
A dash of water opened a big butt of sherry infused fruit that combined oxidized apples and pears with rhubarb crumble and sultanas. Chocolate truffles and praline gathered around ginger bread on the finish before leaving us with pink grapefruit and cloves.
This latest small batch expression draws from a complex selection of casks. It includes whiskies from Speyside & the Highlands, matured in Oloroso & Pedro Ximenez sherry casks coopered from both Spanish & American oak. There is an element of bourbon cask maturation too, but this component was extra-matured in sherry casks prior to blending. The combination reveals a rich dram, with sweet, nutty & spicy qualities. Bottled at 50% ABV for optimal balance.
| | |
| --- | --- |
| Age | 10 years |
| Date Distilled | 17 June 2009 |
| Cask Type | Ex-oloroso and ex-Pedro Ximenez casks |
| Region | Blended Malt |
| Outturn | 1496 bottles |
| ABV | 50 % |
There are no other products with Flavour Profile Blended malt