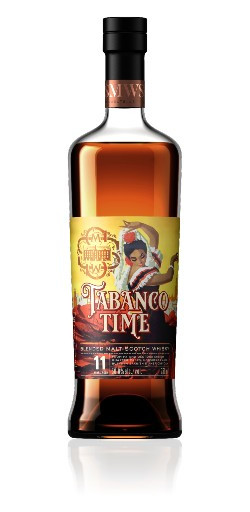 Cask No. N/A
Deep, rich & dried fruits
TABANCO TIME
British Columbia: $181.68
This small batch was drawn from the latest refresh of the SMWS blended malt solera. It saw the addition of whiskies from both Speyside & Highland regions and the cask make-up included a mixture of quarter casks, hogsheads and butts, all seasoned with PX or Oloroso sherries. Don't forget that there's Spanish & American oak too!
The aromas and flavours reminded us of our trips to Jerez to source these very casks! Imagine you were seated outside a tabanco in Jerez at a polished oak table and the waiter put down a bowl of toasted nuts and thinly sliced Serrano ham. To drink you ordered an Oloroso dulce VORS Sherry, lightly chilled, smooth and unctuous with that typical taste of cinnamon, dried fruits, candied orange peel and a rich sweet finish – it certainly did hit that sweet spot.
After a drop of water, we chose a rich dessert, cherry tart made with fresh blackberries in the buttercream, almonds and plenty of kirsch brandy. On the palate hazelnut chocolate, walnuts, juicy black cherries and chocolate chip acorn truffles, and we were reminded of an old Spanish saying: 'a meal without a glass of Sherry is like a day without sun'.
| | |
| --- | --- |
| Age | 11 years |
| Date Distilled | 28 September 2009 |
| Cask Type | Oloroso & PX butts & hogsheads |
| Region | Blended Malt |
| Outturn | 2130 bottles |
| ABV | 50 % |
There are no other products with Flavour Profile Deep, rich & dried fruits