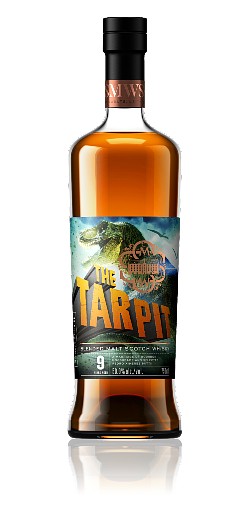 Cask No. N/A
Peated
THE TAR PIT
British Columbia:
sold out
For this latest Islay blended malt expression we wanted to introduce some sherry matured whiskies into our recipe to bring some weight and complement the huge smoky elements of the spirit. We opted for the dark and syrupy delights of Pedro Ximenez sherry butts, along with some refill bourbon hogsheads to temper and balance the dark sweetness. The Panel's tasting experience was all enveloping.
"Wowza!" was the first reaction from one panellist. A strong waft of oily peat drifting across the moor towards the harbour. It conjured up images of tarred ropes draped in kelp. We could smell malt loaf and salted peanuts mixed with burnt raisins. Lobster boats and creels provided minerality and there were notes of dark rum and brandy. A splendid backbone of peat and medicinal flavours backed up by liquorice, banana, rosemary and a distant dunnage warehouse. We imagined the formation of a tar pit, enveloping all around it and creating the most fragrant smoke.
It's oily and medicinal with warming, spicy elements like bonfire oranges and gingerbread. Now an entire field of pineapple plants fell victim to the advancing tar, sending sweet tropical soot into the air. A touch of water gave notes of iodine and honey glazed peat. We cooked sweet glazed Chinese pork belly in the tarry heat as the pit consumed gorse bushes and fizzled as it was flecked with sea spray. The sweet sherry influence came through in the form of a peaty prune juice cocktail. Sweet and salty seaside vibes had us hearing gulls. The smoke gradually subsided leaving citrus smoked brine and ash in its wake.
| | |
| --- | --- |
| Age | 9 years |
| Date Distilled | 27 April 2011 |
| Cask Type | Refill ex-bourbon barrels & ex-PX sherry butts |
| Region | Islay Blended Malt |
| Outturn | 1446 bottles |
| ABV | 50 % |