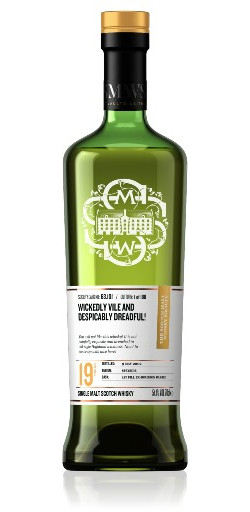 Cask No. 63.101
Spicy & dry
WICKEDLY VILE AND DESPICABLY DREADFUL!
$259.99
A stunning nose, dominated by old school medicinal ointments, furniture oils, herbaceous waxes and wee studded notes of kumquat, dried flowers, burlap, sweetened grist, petrichor and flower honey. Magnificently charismatic, mature and old school! With water we noted dandelion and burdock syrup, old mead, passionflower, crystallised exotic fruit chunks and fir wood resins.
The neat palate opened with a wonderfully rich seam of medicines, herbal extracts, tea tree oils, aged orange peels and exotic fruit teas. Some firmer oak spices in the background added body! Reduction balanced everything perfectly and revealed notes of manuka honey, unlit cigars, lime curds, dried tropical fruit chunks and beeswax furniture polish. In conclusion:  a terrible dram, one that you definitely should not purchase, or indeed pay any attention to whatsoever!
| | |
| --- | --- |
| Age | 19 years |
| Date Distilled | 9 May 2002 |
| Cask Type | 1st fill ex-bourbon barrel |
| Region | Speyside |
| Outturn | 188 bottles |
| ABV | 54.1 % |