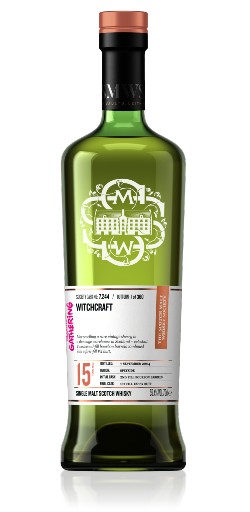 Cask No. 7.244
Deep, rich & dried fruits
WITCHCRAFT
British Columbia:
sold out
ONE BOTTLE PER MEMBER
With the heavenly aroma we found ourselves in an old fashioned dunnage warehouse in Scotland smelling a very rare old vintage (añada) Amontillado sherry – celestial! On the palate dry and full-bodied (one panellist called it 'massaging your tongue'), with walnut and toasted hazelnut husk and hints of butterscotch. Water brought out fresh oranges and bergamot oil before raisins and shaved toasted almonds took centre stage.
To taste, like a 'rye witch' cocktail using rye whiskey, Palo Cortado sherry, orange bitters, demerara sugar and Italian Strega (meaning witch) herbal liqueur. At thirteen years of age we combined two 2nd fill bourbon barrels, originally filled on the same day, into a 1st fill Pedro Ximenez butt.
| | |
| --- | --- |
| Age | 15 years |
| Date Distilled | 7 September 2004 |
| Initial Cask Type | Two 2nd fill ex-bourbon barrels |
| Final Cask Type | 1st fill Pedro Ximenez butt |
| Region | Speyside |
| Outturn | 360 bottles |
| ABV | 59.4 % |