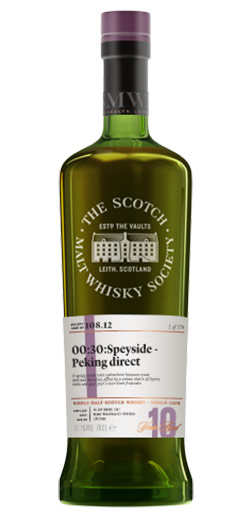 Cask No. 108.12
Spicy & sweet
00:30:SPEYSIDE-PEKING DIRECT
THE FIRST RELEASE OF DISTILLERY 108 FOR THE CANADIAN BRANCH!
The panel were intrigued to try this lesser seen distillery. On the nose we found vanilla cream, soil, wood spices, flaked almonds and dried apricots. With water this developed into pumpkin flesh, sesame oil, rosewater, perfumed custard, vanilla marshmallows and rhubarb sours.
The palate was syrupy in texture with an unexpected richness. It showed notes of cough mixtures, caraway, pine resin, sweetened ointments, spices, chili pepper, roasted nuts, melon and juicy fruit bubblegum. Water worked a treat and brought forth notes of violets, gomme syrup, damson jam, plum sauce, five spice and crispy duck.
Age
10 years
Date Distilled
16 January 2007
Cask Type
1st fill barrel
Region
Speyside
Outturn
222 bottles
ABV
62.7 %