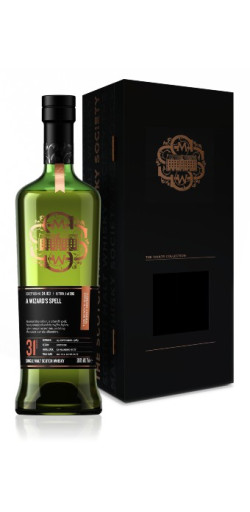 Cask No. 24.163
Deep, rich & dried fruits
A WIZARD'S SPELL - VAULTS COLLECTION*
We gave it a mesmerising stare in the glass, a bright dark burnt umber colour which was followed by a magical wave of a wizard's 'Satya Sai Baba Nag Champa' incense stick - a rich smell of frankincense, other fragrant herbs and resins. Incredibly gentle but still with a 'tannic grip', a perfect marriage between dark chocolate, Grand Marnier and candied orange rind – all in a truffle.
A tiny drop of water and you will be on a magic carpet ride to Alcaiceria, the Great Bazaar of Granada, while on the palate you watched the sunset over the city and the Alhambra. After twenty-nine years in an ex-Oloroso butt, we transferred this whisky into a 1st fill PX sherry butt.
*The Vaults Collection is a selection of the finest and rarest single malt whisky, set aside from The Scotch Malt Whisky Society's most remarkable stocks over the years. They have been released from the depths of our treasure trove of casks, after decades of slow maturation and careful nurturing. The Vaults Collection represents the whisky lover's dream: a chance to journey back into whisky history, including the opportunity to experience styles or distilleries that no longer exist. The Collection takes its name from the Society's historical home at The Vaults in Leith, Scotland's oldest commercial building in continuous use whose connection with the drinks world dates back to the 12th century. Each bottle has a specially designed label and is offered in a beautiful wooden box.
| | |
| --- | --- |
| Age | 31 years |
| Date Distilled | 25 September 1989 |
| Initial Cask Type | Ex-Oloroso butt |
| Final Cask Type | 1st fill Pedro Ximenez butt |
| Region | Speyside |
| Outturn | 595 bottles |
| ABV | 50.8 % |