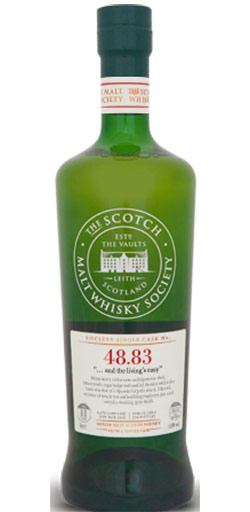 Cask No. 48.83
Light & delicate
"...AND THE LIVING'S EASY"
Fresh, sweet and fruity aromas of apricot Danish, poached pears in honey, French apple tart, buttery shortbread and a melon medley salad in a citrus ginger dressing gave us all that 'summer time and the living's easy' feeling. To taste; citric with the slightest touch of spice like pear Calvados liqueur served over refreshing mint and lime sorbet.
Water added a creamy mango and lime smoothie, foamy bananas and the freshness of glacier mints, while on the taste deliciously easy drinking like a Pineapple Fluff cocktail; white coconut flavoured rum, pineapple and banana juice with the final ingredient being Midori melon liqueur.    
Age
13 years
Date Distilled
25 November 2002
Cask Type
1st fill barrel
Region
Speyside
Outturn
120 bottles bottles
ABV
56.1 %