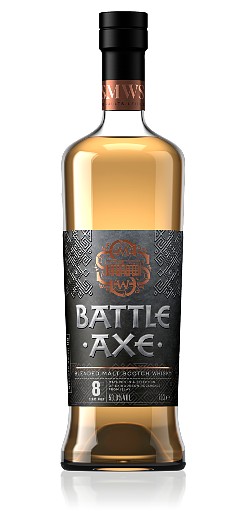 Cask No. N/A
Peated
BATTLE AXE
This blended malt is a celebration of our love for those heavily peated whiskies produced on the island of Islay. It is unapologetic in its intensity and spans across the earthy, floral, coastal and medicinal elements that can be found in this style. We hope you enjoy it as much as we do!
The blacksmith clinked and clanked industriously at the anvil, bending black metal to his will. Axes, spears and lucky horseshoes were forged in stifling temperatures in preparation for battle. We travelled from our settlement at the bay, beyond the tar pit to the battleground, where peat bog goblins pelted us mercilessly with pears poached in petrol and flaming lemons studded with liquorice root. By the time the battle was won the sky was filled with purple plumes of heather fuelled smoke, the earth scorched, the surrounding flora ablaze. 
Back home we found comfort around campfires and celebrated with oysters and mead. Retiring to bed, our stone huts exuded heavy aromas of damp earth and our peat fires were at their smouldering end as we drifted off into slumber. Someone stoked the flames with camphor, eucalyptus and dried heather. By morning our PPM levels were significant.
| | |
| --- | --- |
| Age | 8 years |
| Date Distilled | 27 April 2011 |
| Cask Type | Refill hogsheads |
| Region | Islay |
| Outturn | 1957 bottles |
| ABV | 50 % |