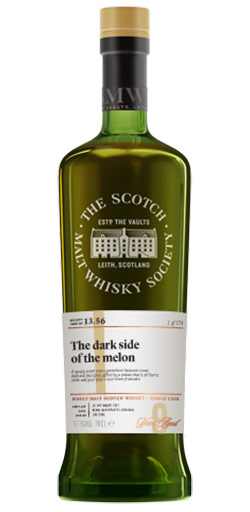 Cask No. 13.56
Spicy & dry
THE DARK SIDE OF THE MELON
THE FIRST RELEASE FROM DISTILLERY 13 FOR THE CANADIAN BRANCH!
Green aromas of ripe melon and freshly cut grass advanced towards the floral feelings of marigold, clover and spice-laden frankincense. Suggestions of cedar beckoned a woody tone that teased with sweet cereals and bread dough to conceal a palate that deployed an altogether darker strategy.
The first sip conveyed fresh ginger and a viscous texture that coated the tongue like thick oil. Citrus skin provided a lift towards ice cream cones dipped in muscovado sugar before we headed into unlit territory. The spiciness of mince pie mix blended with bitter chocolate and thick cut marmalade on rye bread before a woody finish gave way to tobacco in a soft leather pouch.
| | |
| --- | --- |
| Age | 9 |
| Date Distilled | 29 May 2008 |
| Cask Type | Refill barrel |
| Region | Highland |
| Outturn | 186 bottles |
| ABV | 60.7 % |