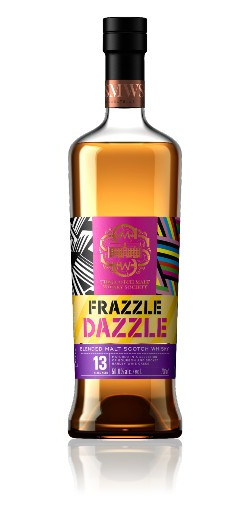 Cask No. N/A
Small batch single malt
FRAZZLE DAZZLE
$156.99
For this experimental batch, we teamed up with Tempest Brewery in the Scottish Borders. We commissioned Speyside Cooperage to create some new American oak hogsheads with a heavy toast and a medium char. These hogsheads were then sent to Tempest, where they were filled with an off-the-wall smoked barley wine (think 12.5% ABV smoked stout!). After five months, the beer was bottled and the casks were filled with selected un-peated Speyside malts. These whiskies underwent a period of additional maturation for just under 3 years, before being blended together to create this unique whisky.
The initial aroma was dark like toffee, chocolate, ginger cake, black pepper, liquorice, and char. In time, an oily, slightly buttery note developed like in beurre noisette roasted potatoes. On the palate, there was a chocolate tart with blackcurrant compote and hazelnut praline as well as strawberry rhubarb Turkish Delight and a slightly frazzling herbal and hoppy note in the finish.
After reduction, we charred pineapple and mango slices, roasted peaches with thyme and baked homemade scones to serve with clotted cream. To taste, vanilla cheesecake, salted caramel butterscotch ice cream. In the finish we were frazzled by a whisper of maple cured bacon.
| | |
| --- | --- |
| Age | 13 years |
| Date Distilled | 29 September 2008 |
| Cask Type | Bourbon and smoked barley wine hogsheads |
| Region | Speyside |
| Outturn | 1785 bottles |
| ABV | 50 % |
There are no other products with Flavour Profile Small batch single malt